CARDIOPATCH Excellent Network promotes R&D in Cardiac Regenerative Medicine and 3D printing applied to Myocardial Infarction treatment. Know us!
THE NETWORK
Building synergies between Health and 3D printing sectors: Discover a new horizon of opportunities!
SERVICES
CARDIOPATCH novel advanced therapy for the Myocardial Infarction treatment. Find out more about our three products.
CARDIOPATCH'S THERAPY MODEL
Meet other Health and 3D printing providers and start building strategic alliances. Take part in the CARDIOPATCH cooperation missions!
COOPERATION MISSIONS
Publish for free research cooperation offers and requests, receive alerts and start cooperating with other key stakeholders of the Health and 3D printing sectors!
OPENLAB OF SYNERGIES
CARDIOPATCH Excellent Network born to advance in the field of
Cardiac Regenerative Medicine and 3D printing
applied to Myocardial Infarction treatment.
More than 4 million Europeans die every year from Cardiovascular diseases (CVD). Myocardial infarction (MI) generates the highest mortality. At present, its treatment mainly includes drug therapy, implantation of devices or cardiac re-synchronization. Despite these solutions, the mortality and re-entry rates are still high and only heart transplant offers a curative therapy. Unfortunately, humans lack adequate regeneration in the heart. Cell-based regenerative therapies are becoming a promising treatment for patients affected by MI. In parallel, 3D printing technology is offering exciting new ways to provide personalized care and create better-performing medical devices. Both, Health and 3D printing sectors can clearly benefit each other. Europe has the necessary assets to boost these sectors but it lacks of structures that promote cooperation, synergies and create joint work actions between these two key sectors.
CARDIOPATCH addresses this challenge by developing specific actions with a four-fold approach (Research-Economy-Public Authorities-Society):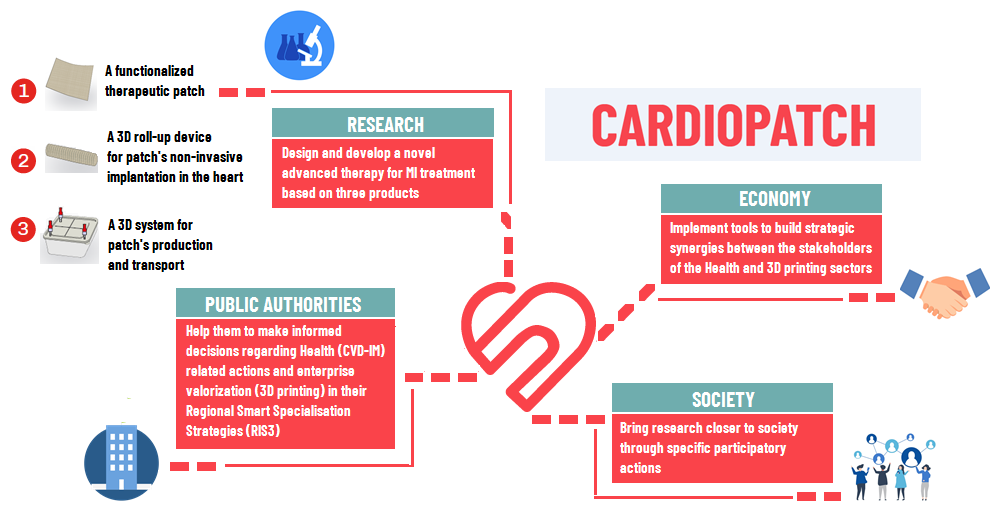 PRODUCTS FOR M.I. TREATMENT
Watch this video and know more about CARDIOPATCH network!
BE PART OF THIS AMAZING NETWORK!
CARDIOPATCH Excellent network is open to new members from Health and 3D printing sectors willing to cooperate. If you are an enterprise, hospital, lab, research institution, university active in these sectors and/or public health and regional development authority, we invite you to join us for free!