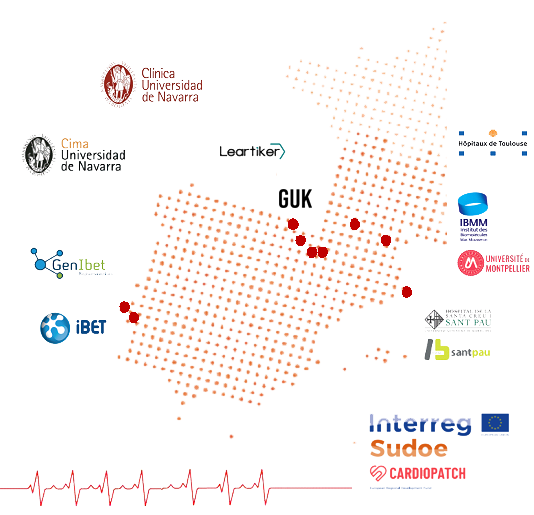 CARDIOPATCH is fostered by 9 different partners from 6 different regions of Spain, France and Portugal.
In line with the multidisciplinary spirit of the project, the consortium includes hospitals, universities, SMEs and research centers.
Here you can find information about all of them
Fundación para la Investigación Médica Aplicada (FIMA) was constituted in 1998, and is the owner and responsible for the management of the Center for Applied Medical Research (CIMA). The Fundación has its own legal status, is a non-profit research organisation and has as social aim the promotion of initiatives which encourage basic clinical research in areas of health and biomedicine to contribute to benefit of public through technological advances and innovation.
CIMA's research is distributed in different Programmes, but the core Programme related to the project relays Regenerative Medicine Programme. Goals are to achieve biomedical excellence with a translational research emphasis for the benefit of the patient. CIMA is the only private research center in Spain that combines solid basic biological science with early preclinical drug development capabilities within the context of clinical patient care. All is oriented to solve unmet medical problems for the benefit of the patient and the society.
The Regenerative Medicine Programme comprises a multidisciplinary team of biochemists, veterinarian and clinical researchers. The group has long-standing experience in stem cell therapies (Mesenchimal Stem Cells and iPS Cells derivation, growth, genetic-modification and differentiation), bioengineering (preparation of cellular patches), implementation of nanotherapies  as well as small animal models of myocardial disease.
CIMA will contribute to develop work package 5, in order to in vivo test the therapeutical potential of the different cellular and/or functionalized patches and select the best one for being applied in a large pig infarct model, as a previous step to the clinics. CIMA will be also responsible for the Transversal work package 3, by facilitating communication among groups and assuring the good progress of the project.